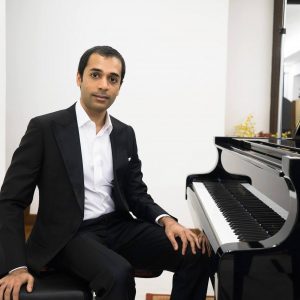 Louis Page is a Sri Lankan-American pianist based in New York. He has lived in Hong Kong, Singapore, Sri Lanka and the USA. A gifted pianist from an early age, Louis was unable to follow the conventional track of many musicians due to illness during school and college years. Despite difficulties during this time, Louis maintained a consistent growth of his repertoire and gave his first American recital in Los Angeles in 2002. During this time, he was working privately with Bruce Sutherland and was a frequent guest at his monthly studio recitals. A graduate of the California Institute of the Arts, it was not until years later that he was able to fully concentrate his efforts on his chosen path.
In Sri Lanka, he has performed with the nation's Chamber Music Society and the Sri Lankan Symphony Orchestra.
Louis gave an outstanding performance of Rachmaninov's second piano concerto at the Singapore Piano Concerto Festival in 2014 and continued working in Singapore under the mentorship of Tedd Joselson with whom he went through a significant expansion of musical thought and repertoire. He followed this with rigorous 3-concerto program of Mozart's Chamber Concertos KV413 and 414 and a world premiere adaptation for string quintet of the Chopin Concerto No. 1 with internationally renowned musicians Aram Talalyan, Boris Livschitz, Igor Yusefovich and Viacheslav Dinerchtein. In 2018, Louis performed and recorded three Mozart chamber concertos with the Chamber Music Society of Colombo.
He has performed major solo works by Mussorgsky, Beethoven, Liszt, Chopin and Prokofiev in addition to further chamber music.
Arabesque Recordings label in New York has signed Louis and released a recording of the two Chopin piano concertos. They have also recently released the recording of Mozart's piano concertos KV413, 414 & 415. Upcoming performances and recordings by Page will include the 26 Chopin preludes, Liszt sonata in b minor, a collection of Schumann's most beloved grand piano suites – namely Papillons, Carnival Jest in Venice and Carnaval and Russian masterworks including Prokofiev's sonata no. 8, pictures at an Exhibition by Mussorgsky and Scriabin's Piano sonata no. 5 (Poem Ecstasy), Rachmaninov concertos nos. 2 and 3 and Tchaikovsky's concerto no. 1, in addition to further solo repertoire.
Described by Joselson as a "tremendously inspirational and extraordinarily individualistic" pianist, Louis also enjoys learning about and immersing himself in different cultures, languages, film, theatre and other mediums of performance, travel and outdoor adventure, reading, appreciating the visual arts and fine cuisine.